Finally, the moment we've all been waiting for is here! HubSpot, the leading provider of inbound marketing software, has just announced the beta release of its highly-anticipated inbound calling feature. This revolutionary new feature allows users to receive and manage calls directly within the HubSpot platform, eliminating the need for separate phone systems.
No more juggling multiple phone systems, no more missing important calls, and no more lost customer interactions. With the inbound calling feature, businesses can easily track and manage incoming calls, as well as view call history and recording. Plus, the feature includes call routing capabilities, which allow businesses to route calls to the appropriate team or individual based on specific criteria.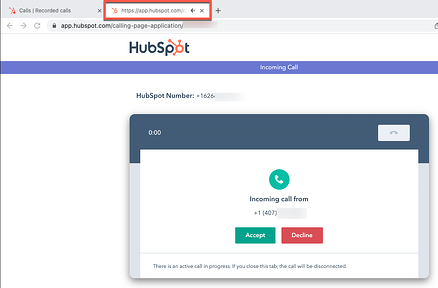 The inbound calling feature also integrates seamlessly with HubSpot's existing CRM and sales tools, allowing users to view customer information and history before answering a call, and automatically log call details and notes after the call has ended. This means that all customer interactions are in one place, ensuring that customer interactions are tracked, managed, and followed up in a timely manner.

To use the feature, all you need is a virtual phone number, which can be purchased directly from HubSpot or from a third-party provider. Once you have a virtual phone number, you can set it up in your HubSpot account and start receiving calls right away.
This is truly a game-changer for businesses looking to improve their customer interactions and streamline their call management process. With the ability to track and manage incoming calls, as well as integrate with existing CRM and sales tools, the inbound calling feature is a must-have for any business looking to take their customer service to the next level.
Don't miss out on this incredible opportunity. Sign up for the beta release now and be one of the first to experience the power of HubSpot's inbound calling feature! It's finally here, and we couldn't be more excited!

Sometimes implementing new HubSpot features into your business can be challenging, that's why we recommend you contact us at Selworthy, We are HubSpot experts, who can help you integrate the latest features of HubSpot into your business, maximizing your potential and helping you to achieve your goals. Contact Selworthy today and take the first step towards revolutionizing your business with HubSpot's inbound calling feature.