We are experts in

Elevate Your Business with Our Expertise in HubSpot CRM, Digital Marketing, and eCommerce Solutions
1800
+
Hours saved monthly with automation
250
+
HubSpot Users Trained
10
K+
Products SEO Optimized
200
+
HubSpot Integrations
Our Driving Force
At Selworthy, we stand at the forefront of the digital transformation age. As a comprehensive digital marketing agency and a HubSpot Platinum Partner, we understand the importance of customer data, CRM systems, and the role they play in empowering marketing and sales teams. Our mission is to deliver bespoke solutions, tailored to your unique business goals, fueling your growth, and maximizing your return on investment.
In an increasingly digital world, we believe that understanding your unique challenges enables us to craft a HubSpot solution that aligns with your specific needs. Whether you're a services business or an established e-commerce store, we aim to deliver solutions that provide the highest possible ROI.
Schedule your FREE discovery call today and find out how we can increase your ROI today!
Our Comprehensive Services
Selworthy prides itself on offering a wide array of digital marketing services. Our expert team uses innovative digital marketing strategies and the latest tools to drive your online success.
Business Strategy Consulting
Our consultants provide expert advice to refine your business strategies and accelerate growth. We leverage industry trends, market research, and your unique business context to formulate strategies that drive success.
Email Marketing
Utilizing our expertise in HubSpot and digital marketing strategies, we create personalized email marketing campaigns that foster customer engagement and loyalty, driving conversions and growth for your business.
Paid Social and PPC Management
We maximize your online visibility and drive high-quality traffic to your web pages. Our tailored approach ensures your ads reach the right audience at the right time, maximizing your ad spend efficiency and ROI.
Website Design
We craft engaging, user-friendly web designs that not only attract website visitors but also optimize conversions. With a focus on responsive design, we ensure your website provides an excellent user experience on any device.
Website SEO Optimization
Our team develops and implements effective SEO strategies to enhance your website's visibility across search engines. We focus on optimizing your site's structure, content, and metadata, along with developing a strategic keyword plan, to boost organic traffic and improve ranking.
Social Media Marketing
We build robust social media strategies to engage your audience and elevate your online presence. Through careful analysis and creative content, we help your brand connect with your audience on a more personal level.
Content Strategy
We focus on crafting comprehensive content strategies centered around topic clusters to improve your website's SEO and user experience. Our team provides expert consultation and detailed planning to align your content with your business goals, boosting your online visibility and audience engagement.
eCommerce Solutions
We offer top-notch eCommerce website design and product SEO optimization to boost your online sales. Our ecommerce solutions are designed to provide a seamless shopping experience, driving customer satisfaction and repeat business.
Data Analytics & Reporting
Our team offers comprehensive data analytics and reporting services. We leverage the power of HubSpot's analytics tools to provide valuable insights into your marketing efforts, helping you make informed decisions and optimize strategies for better results.
HubSpot Automation
Our team streamlines your business processes with effective HubSpot automation strategies. From email sequences to workflow creation, we help automate your tasks, freeing your team to focus on what they do best.
HubSpot Implementation and Training
We ensure seamless integration of the HubSpot CRM into your business operations and provide comprehensive training to your team. With our support, you can harness the full potential of HubSpot to streamline your processes and drive results.
Backlinking Strategy
Selworthy guides you in building a strategic backlinking campaign to bolster your website's authority and SEO. We're your partners in understanding, implementing, and enhancing your online credibility and visibility.
More Than Just Implementation
At Selworthy, our commitment extends beyond implementation. We believe in forming lasting partnerships with our clients, providing continuous support, data-driven insights, and performance analysis. Our team continually monitors your campaigns, using real-time data to make strategic adjustments that optimize your digital marketing efforts.
We understand that your success is our success. That's why we go the extra mile to ensure you have everything you need
to drive results and grow your business with HubSpot. Trust us to help you make the most of your CRM investment, today and in the future.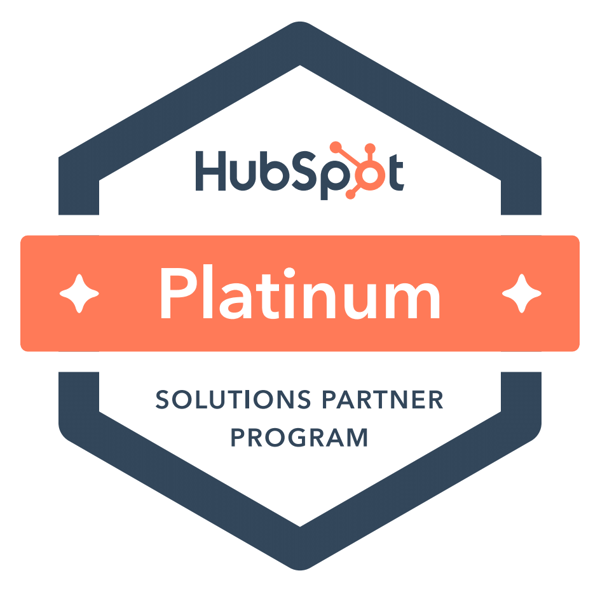 "
Selworthy helped our company with re-onboarding onto the Hubspot platform. They are very knowledgeable and really drilled down to figure out the best way to approach our goals and needs before we set anything up within Hubspot. They were not afraid to question and challenge us to make sure we were going to set Hubspot up in the most efficient way. I would definitely recommend Selworthy
"
"Selworthy has taken a comprehensive approach to fixing and integrating all of our marketing/sales systems and campaigns. They work quick, intelligently, and are fairly priced. I will be using them any time I set up new systems going forward"
"Working with Dane and Kris these past 2+ years has been a great experience and they have been instrumental in increasing both our online outreach and sales. They have also helped refine our CRM and marketing efforts. Exceptional people with the knowledge to back it up as well!"
"The team at Selworthy are Hubspot wizards who don't just execute on projects but provide a holistic approach that always keeps our end goals and needs at the forefront"
Free 15-minute Call
Start your digital transformation journey with our FREE 15-minute discovery call. During this call, we'll dive deep into understanding your unique needs, identifying your challenges, and exploring potential solutions. We'll assess your current digital marketing efforts, identify gaps, and discuss how our services can help fill those gaps to drive growth.
This call is more than just an introduction. It's the first step towards creating a tailored plan that aligns with your business goals and objectives. It's an opportunity for us to understand your business on a deeper level and for you to see how Selworthy can help you reach new heights.
During our call we aim to accomplish:


✔

Understanding your unique needs and goals


✔

Identifying the challenges you are facing


✔

Exploring potential solutions


✔

Establishing a strong, personal connection to you and your business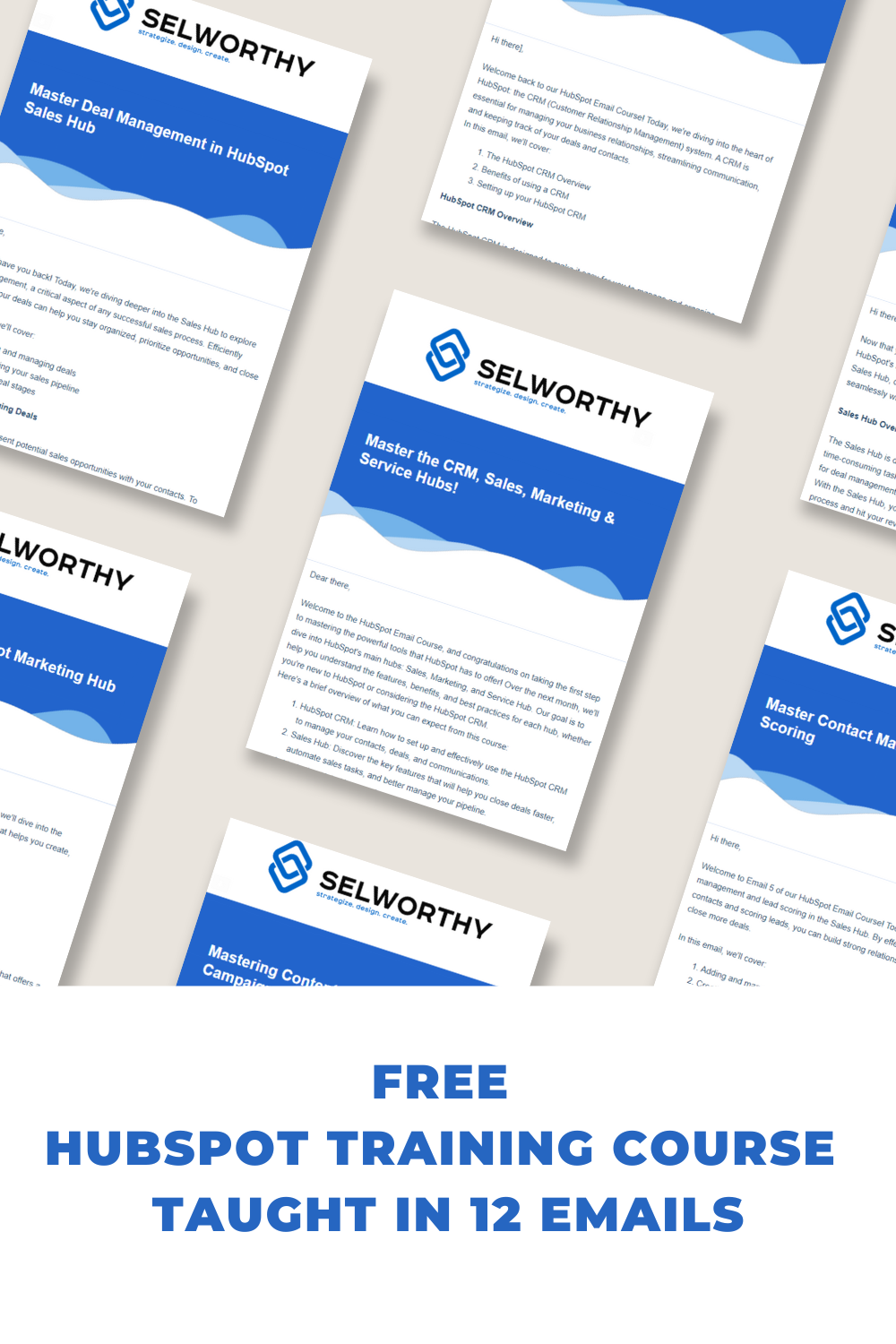 Master HubSpot with Our Free Email Course
Unlock the full potential of HubSpot CRM, Sales Hub, Service Hub, and Inbound Marketing with our comprehensive 12-part email course. This course is designed to equip you with expert tips and best practices, transforming your business operations and boosting your efficiency.
Whether you're new to the platform or looking to deepen your knowledge, our step-by-step guide will help you navigate the CRM, Sales, Marketing, and Service Hubs with ease. Sign up now and start transforming your business with expert tips and best practices, delivered straight to your inbox!